Maltings Heritage Interpretation is a design consultancy led by Mike Foster and Steve Capsey, two award-winning interpretive designers / illustrators with more than 30 combined years' experience in the heritage sector.
The company is passionate about helping enhance the communication of information to visitors across a wide range of public sites through skilled design, imaginative illustration and creative visual language.
Mike and Steve have a national reputation for their enthusiasm, innovation, quality and reliability. Please browse their recent projects, discover more about Maltings, the services it provides, or view the testimonials.
NEW: Announcing the publication of our brand new brochure ILLUSTRATION FOR INTERPRETATION – chock full of samples and inspiration for your project. You can download the PDF HERE.
ABOUT MALTINGS
Enthusiasm is the mother of effort, and without it nothing great was ever achieved.
RALPH WALDO EMERSON
Often working alongside a small, hand-picked team of skilled associates, Maltings offers a FULL-SERVICE SOLUTION… whether your requirement is a single interpretive panel or the ground-up development of a new museum, the team provides the expertise to take you from brief to build.
Mike and Steve have worked together at Maltings since 1989. Both are exceptionally skilled in interpretive design and illustration, embracing an artisan approach, constantly developing skills and always striving to make their next work their best yet. They have forged a reputation as leaders in their field, producing outstanding, creative solutions of the highest quality, on time and on budget. Heritage Interpretation is a passion as is evident from the examples shown across their case studies.
Mike and Steve adopt a 'hands on' approach, liaising directly and transparently with all clients to ensure the smooth progress of their projects. They value clear communication, they advise, and just as importantly they listen, and they fulfil every commission with unmatched diligence, imagination and enthusiasm.
Below are just a small number of the diverse range of clients they have had the pleasure of working with in recent years.
ABB
Ampthill Great Park
Bishop Auckland project
Brightlingsea Museum
CADW
Caernarfon Castle
Caledonian Park
Calke Abbey
Canal & River Trust
Clumber Park
Combe Mill
Derwent Valley Mills World Heritage Site
Dorling Kindersley
Dronfield Hall Barn
English Heritage
Gloucester Museum
Grantham Canal
Guinness
Harpenden Town Council
Historic Scotland
Holy Trinity Church
Kensal House
Lifeway
Lye & Wollescote Cemetery Chapels
National Trust
Newport Pagnell Town Council
North York Moors National Park Authority
Norton Priory
Oliver Cromwell's House Visitor Attraction
Pembroke Castle
Polesworth Abbey
Raglan Castle
Rolls-Royce
Rosedale Abbey
SANDs
Sefton Park Palm House
St Helen's Church
St Mary's Church
St Peter-in-the-Forest Church
Stoneywell
Thanet District Council
The Roundhouse
Wentworth Woodhouse
Woodland Trust
For projects that are at an early National Lottery Heritage Fund bid stage, or require extensive content development rather than being design led, Maltings work very closely with the Heritage Now team. Find out more here.
Please visit the studio's sister website maltingspartnership.com for more examples of illustration work, created for interpretation, publishing, advertising and industry.
WORKING WITH MALTINGS
The difference between a good story and a great story is in the telling.
MIKE FOSTER, Partner, Maltings
ETHOS
'Spirit of Place' – a simple term to describe everything that defines a site – encompassing the invisible weave of culture, social history and interpersonal relationships, together with more tangible physical aspects from present and past. For Maltings, spirit of place is at the heart of all we do. It must be clearly understood, respected, and inform all aspects of the design development process alongside the views and ambitions of those who know it best – the client team.
For larger projects, establishing a simple, critical list of aspirations at the outset is essential in ensuring that focus is maintained throughout. Mike and Steve are very familiar with working alongside volunteer groups, and are highly skilled at getting to the root of what they truly want – even when they are not certain themselves. A site visit is usually necessary, particularly when they are required to develop an appropriate 'Visual Language' – meaning how brand, typography, imagery, materials and palette sit within, respect and reflect Spirit of Place. Meaningful dialogue from first meeting to journey's end is also essential to the process. Listening on both sides, clear communication, mutual respect for the expertise of all involved and trust in Maltings capability to deliver, all contribute to forging a fruitful working relationship that will yield exceptional results.
Please do not hesitate to call Mike or Steve if you have a project you would like to discuss, or if there is anything more you wish to know about Maltings Heritage Interpretation. Advice and guidance is offered at no cost, and they are always friendly, approachable and happy to help. You will find our contact details here.
THE MULTI-DISCIPLINARY TEAM
As interpretive designers/illustrators Maltings role is all things visual, creating the overall design aspects of a given project – graphically, structurally, and in terms of how the whole may be presented – with the aim of engaging visitors and encouraging them to learn about a site, its heritage and its stories. All this is developed in-house through direct, ongoing liaison with the client team. By necessity, they have developed close working relationships with a number of associate professionals and organisations who together offer the skills necessary to allow Maltings to provide a FULL-SERVICE SOLUTION for just about any interpretive project.
The multi-disciplinary team approach affords many advantages to the client that are worthy of consideration:
A team is assembled according to the requirements of each project, meaning budget is directed only to the skills demanded by a particular scope
Members of a team work together because they choose to do so, out of mutual respect for the creativity, professionalism and particular expertise they each bring to a project
Individual roles and responsibilities within the team are shared with the client from the outset, as transparency encourages direct liaison and clear lines of communication
Tasks are not delegated via layers of management or salespeople, ensuring feedback and critical information is delivered directly to the appropriate professional
For a complete list of the range of skills Maltings can bring to your project please visit the 'Services' page here or visit Heritage Now if you wish to discover more about some key members of the team.
WORKING TOGETHER
First and foremost, Maltings recognises that the journey to the point where interpretation is commissioned is often long and arduous. Organising the build and restoration for heritage projects takes time. Securing funding and liaising with local communities, stakeholders, architects and other professionals might require your teams learning new skills. Training can take hundreds of hours, and progress is often frustratingly slow and demanding.
Maltings role begins at a point when the project team's energy can sometimes be a little depleted by the process, and so is as much about rekindling early enthusiasm as it is about delivering the brief. Passion, expertise and energy is always included in the price!
The team at Maltings is always on hand to offer guidance, information and advice as required, to provide structure and clarity to the development process, and to meet – and surpass – the expectations of the client team at every stage as the project progresses. Work never begins until budgets are agreed and set. Fees and costs are clearly itemised and typically work is invoiced as it is completed, with regular budget updates submitted as appropriate.
You will find Maltings friendly and approachable, honest, reliable, and a genuinely enthusiastic addition to your project team. The ultimate aim is always the same: to surpass client expectations, to ensure all involved are delighted with the results, and to make the journey as enjoyable as possible.
For further information about Maltings, how the team works, what they can bring to your project, or specifics about the commissioning and design development process, please contact Mike or Steve here.
CONTACT
The Maltings Heritage Interpretation is Mike Foster and Steve Capsey.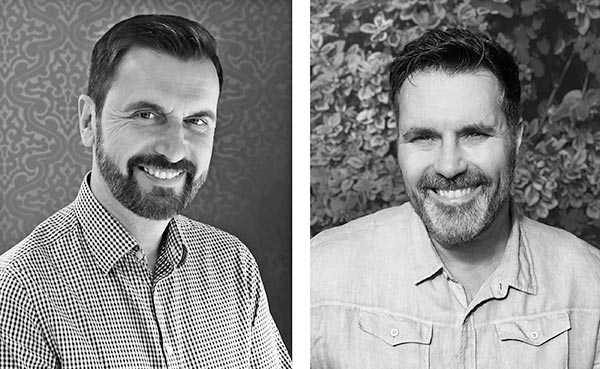 MIKE'S LIKES: Creativity, life-long learning, attention to detail, perseverance, enthusiasm, embracing challenges and developing skills. Good company, good food (great when combined). Human ingenuity, kindness, conversation, an ice cold beer and a crackling campfire. Lazy summer evenings and fresh snow, walks with the dog, time to reflect and get inspired. Taking to the lanes on the motorbike. A view, collecting comic-books (they nurture a love of drawing and telling stories), never really growing up, despite pretending to be an adult. Mostly. Creativity, again, because it is that important!
STEVE'S LIKES: Taking the time to 'smell the roses' on life's journey. Leaping into new experiences and learning new skills (the greatest rewards are found through the hardest challenges). Appreciating other people's time and recognising their talent. Outstanding architecture, travelling without a plan, playing guitar in a band, the sound of the sea, chocolate, exercise (see chocolate). Everything with an engine and doing anything that requires tools!
The Maltings
D1, The Old Grainstore
The Bartonfields Centre
Church Broughton
Derby
DE65 5AP
01332 291 377 (Studio)
01332 799536 (Mike)
01332 512599 (Steve)
NEW: Announcing the publication of our brand new brochure ILLUSTRATION FOR INTERPRETATION – chock full of samples and inspiration for your project. You can download the PDF HERE.